Photo by Lance Phegley/raceshots.net
The Fort Bend Kia Sugar Land Turkey Trot is everyone's favorite race!
Below you can find important details regarding packet pick up, post race party, parking information, and more! If there are any questions left unanswered please email SugarLandTurkeyTrot@gmail.com
We are collecting canned goods for East Fort Bend Needs Ministry and new or gently used athletic shoes for Sole Loved. Drop off bins for these items will be at the Orange Sugar Land Turkey Trot Tent Thanksgiving morning!
Frequently Asked Questions
Parking
EARLY parking will be in Sugar Creek Village (13897 Southwest Fwy, Sugar Land, TX 77478), near the race start. After 8 am, parking is in the large Sugar Creek Baptist Church lots, two blocks further down the 59 feeder. All parking at this race is FREE and close by. Thanks!
Refunds, Transfers, Deferrals, Cancellation
Sugar Land Turkey Trot does not offer refunds, transfers, or deferrals for any reason.
Dangerous weather may cause the cancelation of the race without refunds or deferrals.
The vast majority of race expenses are spent prior to Thanksgiving race day, including charity donations. Thanks for understanding.
Medical Support
Sugar Land Fire Dept EMTs will provide medical support at the finish line and on-call for the course.
Volunteers... we need you!
Volunteers needed for water stations and refreshments. Please email sugarlandturkeytrot@gmail.com if you or your group wants to volunteer! 
Check-in at Sugar Creek at 6:30 a.m. SHARP on Thanksgiving morning.  You will be finished by 10 a.m.
We have great groups of volunteers such as Bel Inizio, Rainbow Room, local high schoolers, Fort Bend Fit, and Snowdrop Foundation.
We need YOU too to put on the best race possible! 
Entry Fees
Shirts are not guaranteed after November 17th. Register early to assure you get a t-shirt. Limited Field.
Online registration closes Wednesday, November 22, at 5 pm. No race day registration.
Sean Scroggins' Kids' Mile (Ages 1-12, strollers welcome)
EARLY FEE  Feb 1-Sept 30 $15
October 1-31 $20
November 1-23  $25
Coach Andy's 5-Mile Run
EARLY FEE Feb 1- Sept 30  $30
October 1-31 $35
November 1-18 fee $40
November 19-22 fee $45
Aunt Jean's 2.8-Mile Walk & Jog (strollers welcome, non-competitive)
EARLY FEE Feb 1-Sept 30  $25.
October 1-31 $30
November 1-23  $35
No refunds, no transfers to another person, no deferrals are offered for any Sugar Land Turkey Trot race regardless of reason.
Dangerous weather could force cancellation of this event, without refund or re-scheduling.
Packet Pickup/Late Registration
Packet Pickup information:
Shirts not guaranteed after November 17th
Tuesday, November 21, 2023 from 11:00 a.m. – 6:30 p.m. @ Fort Bend Kia  26633 Southwest Freeway, Rosenberg, TX 77471

*** (If you pick-up your packet the first day @ Fort Bend Kia- you will have a chance to win multiple door prizes from some of our sponsors (gift cards, coffee, cookies, Kendra scott, beer and more).

 Wednesday, November 22, 2023  from 11:00 a.m. – 6:30 p.m. @ Fleet Feet – Sugarland       15890 Southwest Freeway, SugarLand, TX 77478                    

                                                                     

No race day registration or packet pick up.
Awards
-Race Timing results for the 5-mile only.
-Awards for First Overall Open Male and Female and First Overall Masters (40+) Male and Female.  (Prize will be a gift certificate for a free pair of Newton Running Shoes)
-Top 3 in each five-year age group, 14 and under through 75+, male and female.
-Awards ceremony 9 am-9:45 am. Postrace party with refreshments and prize drawings.
Sean Scroggins' Kids' Mile
Our Kids' Mile (ages 12 and under) is held in memory of Sean Scroggins, who placed as a runner-up in our race as a 12-year-old in 1993 (6.01 minutes). Sean, 16 years old, passed away in 1997 of a brain tumor.
Strollers are allowed in the Sean Scroggins' Kids' Mile.
Aunt Jean's 2.8 Mile Family Walk & Jog
Aunt Jean's 2.8-Mile Family Walk & Jog is named after Jean Dixon, aunt to everyone who met her. Aunt Jean was head cheerleader at every race, dressed in seasonal attire, serving after race snacks with a big smile.
Aunt Jean left a big hole but wonderful memories when she passed away at age 90 in 2018.
Casual, non-competitive walk & jog. Strollers are welcome. No time limit so bring the whole family!
Coach Andy's 5-Mile Timed Run
Coach Andy's 5-Mile Run is named in honor of Andy Stewart, everybody's favorite running coach and race director. Andy's open arms built the Sugar Land running community and his generous heart supported many charities and causes over the years.
Andy passed away on November 9, 2021, and we will continue to honor his legacy through excellent races and charitable support.
Coach Andy's 5-Mile Run is chipped timed. A white strip is on the back of your race number bib for bib-tag scoring. Wear your bib chest-high on the front and do not cover or fold your number for accurate timing.
Still have questions?  Email Sugar Land Turkey Trot Race Staff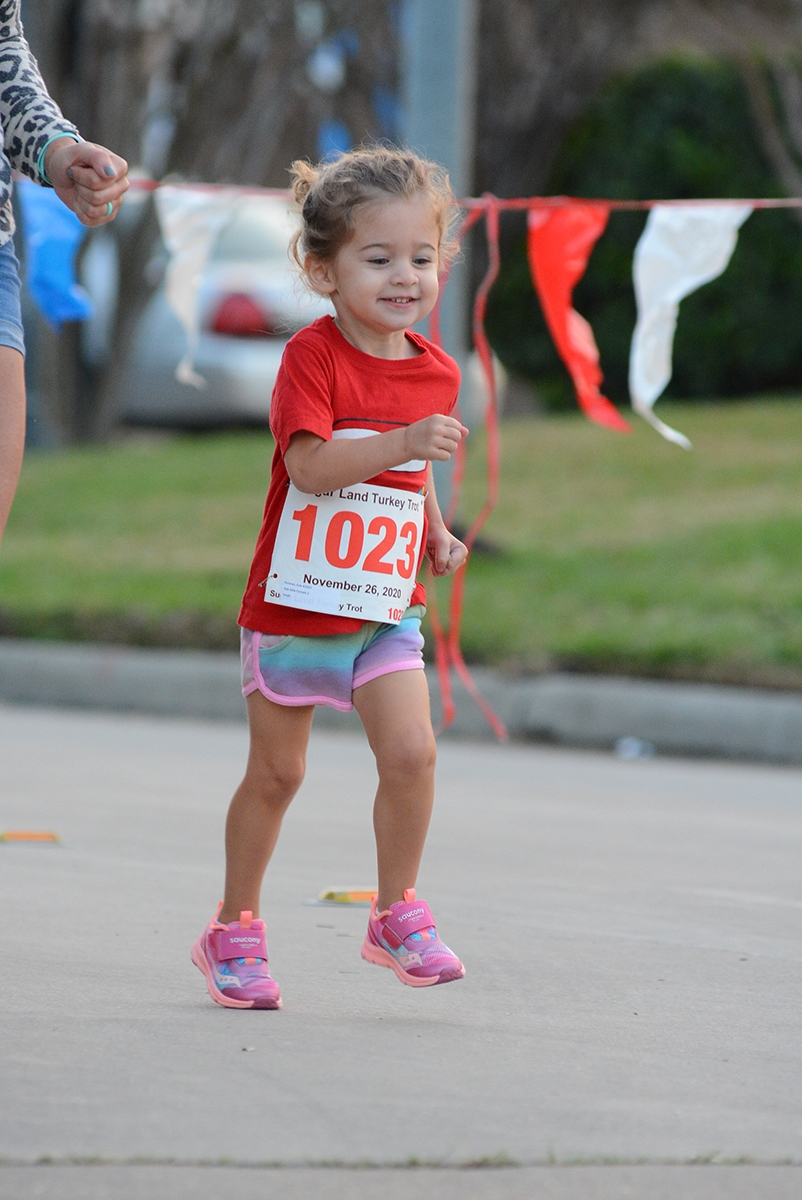 All Photos by Lance Phegley/raceshots.net